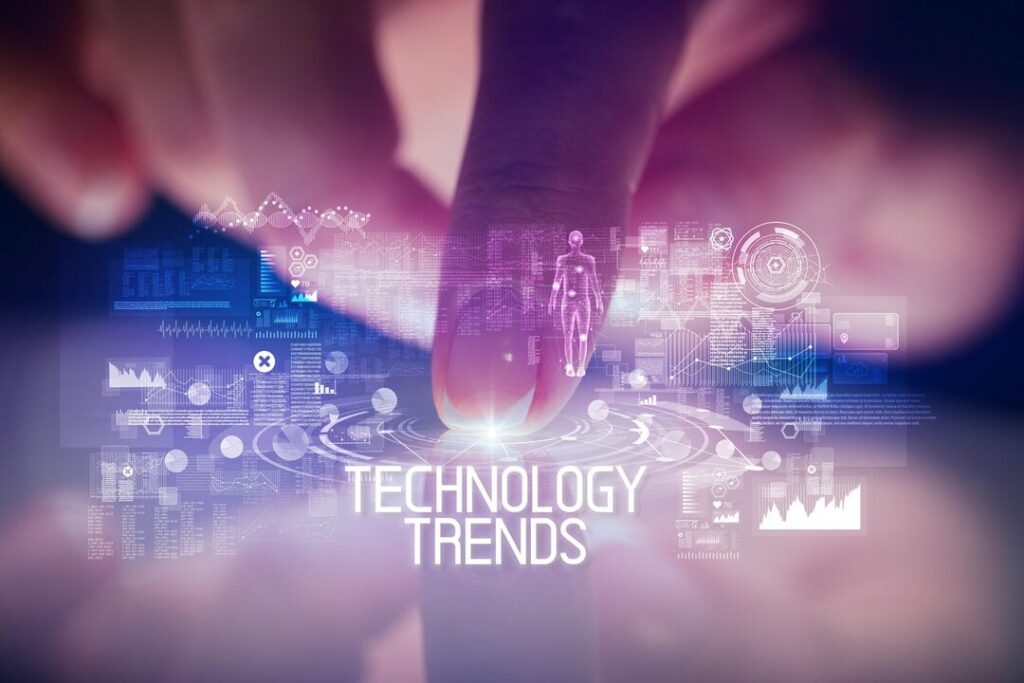 Technology has grown by leaps and bounds in the previous 60 years. We've come a long way from a one-ton system that could store 3.5 MB of data (IBM 350) to an SD card that can hold 2 Terabytes of data and weighs only 2 grams.
Change is one thing that has been constant during this period. Every 2-3 years, technology evolves, and it is critical to stay current to advance quickly to tap on the foreseen opportunities.
We have come to begining of a new year marked by technical advancements that have shifted businesses toward a more automated and efficient approach. The most recent technological advances are paving the road for more connected enterprises.
It, however, is merely the beginning. The technology trends of 2022 are brimming with "old acquaintances" that are evolving, as well as the most cutting-edge innovations that will further impact our daily lives, how we communicate, and how we work.
HyperAutomation
Hyperautomation is a process for quickly identifying, vetting, and automating as many business and IT activities as feasible.
With hyper-automation, scalability, remote operation, and business model disruption are all possible.
HyperAutomation is the method of automating as many business activities as possible using a combination of technologies like artificial intelligence (AI), machine learning, and automation technologies such as Robotic Process Automation (RPA).
According to business wire, 70% of RPA professionals expect their company to hire additional developers in the coming year. According to Forbes, the use of AI has increased by 270 percent in numerous commercial areas during the last four years.
Blockchain
Blockchain has been known as a buzzword in the last few years. Typically, people believe that Blockchain's applications are restricted to cryptocurrency.
On the other hand, comparing cryptocurrencies to Blockchain is equivalent to claiming that smartphones can only be used to make phone calls. Blockchain is being used in many industries, including health, insurance, finance, and many more. Popular games such as Axie Infinity are now using Blockchain!
According to the Delloite Global Survey, 45 percent of emerging disruptors have already implemented Blockchain.
According to Gartner, the commercial value provided by Blockchain will rapidly expand, reaching $176 billion in 2025 and $3.1 trillion in 2030.
Edge Computing
Edge computing is the practice of gathering, storing, processing, and analyzing data close to the client, rather than in a centralized data-processing warehouse, where the data is generated.
According to IDC, the global edge computing market will reach $250 billion by 2024. A cloud engineer's annual pay in the United States ranges from $104,000 to $147,000. It starts at 12 LPA in India and can rise to 30 LPA.
Total Experience
A total experience strategy helps employee experience, user experience, multi-experience across numerous touchpoints that enables a great customer experience.
Through holistic management of stakeholder experiences, the complete experience may increase customer and employee confidence, happiness, loyalty, and advocacy.
Autonomic Systems
Self-managing physical or software systems that acknowledge their surroundings and dynamically adjust their algorithms in real-time to maximize their manners in complicated ecosystems are referred as autonomous systems.
Autonomic systems are a kind of technology that can support new requirements and scenarios, improve performance, and defend against threats without human intervention.
Internet of Behaviors
Have you ever experienced a case where you're discussing a product with a friend and then get an advertisement for the same?
You are not alone if this has happened to you. Targeting the right individual at the right time with the correct goods is the goal of this sort of marketing!
The Internet of Behavior, or IoB, is a term that refers to the study of behavioral data collected from IoT devices all around us. IoT devices include Alexa, Google Homepod, and even your smartphone.
SnowFlake
Snowflake is a cloud data warehouse that collects information from many applications, services, and computer platforms. The skill to scale, compute, and storage separately is what sets Snowflake apart! Snowflake has over 4,900 customers, including 212 Fortune 500 companies with thousands of job openings on its employment portals.
Cybersecurity
Cyber threats resulted in damages worth a whopping $6 trillion in 2021 alone, making it the single largest economic disaster in history.
According to a report in the health sector alone, cybersecurity is expected to boom to $125 billion by 2025.
Cybercrime has skyrocketed in recent years. Twitter was hacked in 2021 and used to obtain Bitcoins. Is there anything you don't like about this?
The cybersecurity mesh is a modular architecture that connects various security services that are spread. It enables best-of-breed, independent security solutions to collaborate to enhance overall security and safeguard assets. One of its essential benefits is that it can swiftly and accurately validate identity, context, and compliance with cloud and non-cloud policies.
It's one of the big bets for 2022 since it changes the focus away from maintaining a traditional IT perimeter and toward a more modular, centralized approach to security. It is predicted to minimize the economic impact of security events in the future years by 90%.
Decision Intelligence
A realistic technique to enhance corporate decision-making is decision brilliance. Per choice is modeled as a series of procedures, with intelligence and analytics used to report, learn from, and refine.
Through simulations, augmented analytics, and AI, decision intelligence can support and enhance human decision-making and potentially automate it.
Conclusion
Even though technologies are constantly developing and altering all around us, these top technological trends provide exciting opportunities now and in the future. Because most of these trending technologies are looking for skills, that are important to be on board while they're still in the early stages, which will help to succeed in near future.