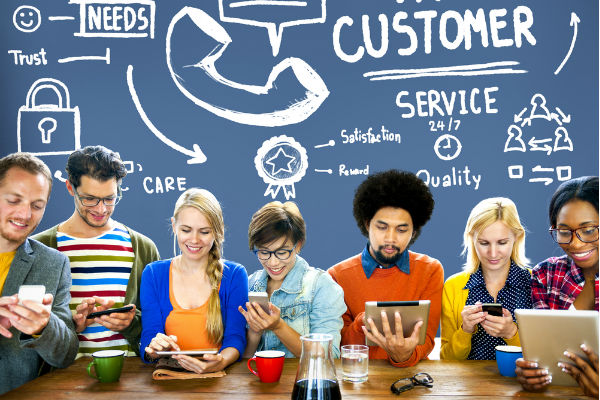 Top Technologies to Transform Customer Engagement
In today's day and age every customer experience across the board is supported by some of the latest technologies. As time elapses, technologies evolve at a rapid pace and the forefront of customer engagement has endless opportunities to advance and develop in parallel.
Artificial Intelligence
AI is quite easily the hottest topic when in comes to emerging uses of technology, and this is no different when it comes to enhancing the customer experience. Although it could be argued that this de-humanizes communications between the service provider and end user, artificial intelligence may be more intelligent than you think, and can integrate in enhancing human interactions.
ChatBots
With the collaborative efforts from human input and Artificial Intelligence, chatbots are no longer obvious in their approach. Now that keywords can be recognised by the AI interface (and backend input), responses seem to appear a lot more authentic than in previous years when ChatBots were first introduced to Facebook, it was quite clear that you were not speaking with a human. Now even mobile applications support a ChatBot features in which you can jump in at any time and engage with customers directly. They wouldn't even be able to see the transition, creating an enhanced AI enabled human experience, from the palm of your hands! No longer are impatient consumers left unattended, as chatbots are active 24/7.
Mobile, Mobile, Mobile!
It is to no surprise that the handheld technologies of today are here to stay. Consumers nowadays are known to browse and shop on mobile devices and the worlds most popular search engine, Google has recognised this. In fact, websites which are not mobile friendly no longer rank as high as they would if they were mobile optimized. Google favours mobile friendly websites as this development has shaped alongside the increased use of mobile customer engagement. Your handheld devices have now taken over computers as the "top e-commerce traffic source". Thus, if you're not in the position to be mobile friendly, you're already behind!
Enhanced Consumer Insights & Analytics
With the introduction of GDPR regulations, companies had to assure no "unnecessary" information had been retained from consumers. However, insights into consumer behaviour has never been more prominent to aid the common marketer. Basic demographics are a thing of the past as brand can now access and assess typical consumers' online and offline media behaviours, preferences, location / travel patterns and purchase history, all within legal regulations. This data isn't just something to simply observe, but to action to assure higher, more meaningful customer experiences.
Less clicks, more conversions!
With the introduction of "buy now" and "download now" options, consumption for the end user has never been easier. We are ALL consumers in the digital age and this concept is only going to become more simplified. What may have taken you 3 clicks (and the notion of entering in your details) in order to get a free download or to sign up and buy something, has all become a thing of the past. Websites are now using one click options to ensure the consumer does not lose interest. With the peaks and pits of introducing GDPR, unnecessary data capture has been left behind and customers are left easier to convert.
"The increase in technology doesn't change the core concepts of marketing, but the new technology does magnify every triumph and failure."
As we continue to uncover new technologies consumers are open to having a dramatic change in their experiences online, it is then up to companies and their marketing departments to ensure the use of these technologies are placed at an advantage for everyone. People want life to be made easier for them, and all the technologies mentioned above seamlessly enable the notion of convenient consumerism.