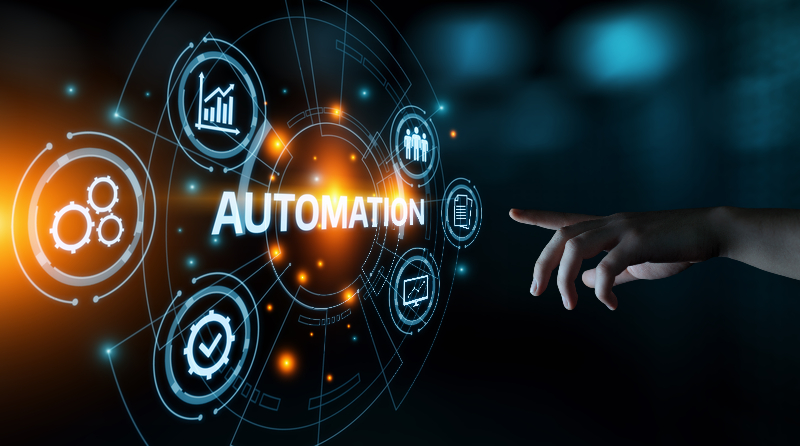 Automation Through Systems
Today, to strengthen the industry's competitiveness, it is necessary to provide high-quality, genuine products at competitive prices. Many industries are looking at new product designs and integrated manufacturing technologies to address this challenge.
Defining The Automation
Automation is the use of various machines to perform work. Automation is done using control systems and technology, reducing human labor. Basically, automation is the act of controlling equipment using electronic systems. Automation plays a significant role in industrialization, and automation is a step further than mechanization.
What is automation in the industrial world?
Automation is the use of various technologies based on software technologies and robotics to control machines and processes in a separate system. In the industrial world, we are automating to improve productivity and reduce labor costs.
Industrial automation utilizes various communications equipment for industrial control, such as programmable logic controllers (PLCs) and programmable automation controllers (PACs). In the industrial world, control strategies use a set of technologies implemented to achieve the desired results, and automation systems are required in the industrial world.
Importance of Automation
With the help of automation, we can reduce labor costs considerably. The automated equipment works without errors are reliable and can quickly and accurately perform tasks. Automated machines can work in places where hard manual labor is required and can operate in hazardous environments. Automated devices can perform tasks that exceed human capabilities.
Advantages of Automation
Implementing automation in business requires a certain level of technology investment to set up and standardize processes. In order to effectively prioritize resources, one needs to identify areas where automation provides the highest ROI.
Below are some of the key benefits that automation can bring to businesses:
Adapt to market demand
Automation provides scalability and agility to adapt to changing market conditions. This is because you don't have to hire more people to keep up with changing customer demands and order volumes.
For example, automating repetitive tasks eliminates hiring and training new employees for inventory management, order processing, and payment processing. One can also better manage costs and ensure customers receive orders without delay.
Reduction in labor costs
Many businesses invest in the costs of hiring employees to do labor-intensive, time-consuming work that does not add significant value to their business.
Automation can reduce the laborious work that is needed to process these tasks, thereby reducing overhead costs and increasing profitability. This helps them to focus on quality, not quantity, to hire better people to drive growth.
Improved marketing ROI
Marketing automation helps you optimize your budget and deliver results. There are several affordable tools that cover areas such as email marketing, CRM, sales, programmatic advertising purchases, audience targeting, and e-commerce (product recommendations, etc.).
Automation, in particular, helps to process, analyze, and organize large amounts of customer data, enabling you to execute personalization strategies that are key to improving sales and performance in the coming years.
Utilization of remote workers
The increased use of remote workers has enabled many small and medium-sized businesses to access the people and expertise they need while reducing overhead. You can also find the right people to work on the project at hand without the cost of hiring a large team of regular employees.
Automation makes internal processes easier, allowing employees to collaborate seamlessly even when they are not in the exact location. Some businesses can also be entirely virtual, saving on expenses such as rent and office equipment.
Better Communication with External Partners
Integrating external vendor and partner systems with the platform allows you to easily manage the supply chain and procurement, ensure timely information exchange, minimize delays, and reduce errors.
For example, automating the purchasing and invoicing processes or integrating inventory management software with supplier systems to ensure that reorders are made promptly will ensure that out-of-stock does not delay essential projects.
Improved employee satisfaction
Business process automation streamlines employee experience and enables them to respond promptly to the needs and requests. For example, one can promote form workflows such as applications, process management and managing expenses
Automation also makes it easier for recruits to be accepted, enabling them to become productive as quickly as possible and gain experience to attract and retain the best people.
Minimize human error
Automation helps to improve the accuracy of many business operations. Eliminate costly manual errors such as invoicing, bookkeeping, order fulfillment, and inventory management that re-enter information from one system to another.
For example, shipping software helps you correctly print the labels you need for shipping, scheduling software minimizes employee mismanagement, and intelligent inventory tools eliminate the need to count items manually.
How business process automation works
A business strategy is a series of steps performed in a specific order to achieve a goal. Therefore, the first step is to define the goal and identify the steps required to achieve it. Business Process Automation allows you to set automation rules for each step and specific triggers that drive them.
Take the annual report as an example. The company's board of directors and CEO must sign the annual report before an auditor can sign it. Business automation allows you to create document routing workflows based on the signer's role. The system automatically routes documents to the CEO and Board. When they sign, the system automatically sends a report to the auditor for final signing. Collecting signatures for annual reports is time-consuming because multiple signatories must sign in a specific order.
By automating this process, companies can get their important activities done without delay.
Practical challenges of business automation
Consolidation compatibility and cost are serious issues. The longer a company is known, the more legacy systems exist. When deploying a new system, one of the key concerns is whether it will fit well with existing resources. Also, regardless of whether the interaction between the old and new approaches is good or bad, there is a financial cost to uniting them.
Security
There is an obvious security issue involving technology. Every day, every moment, countless hacking attempts are made. Digitization of everything exposes this vulnerability. A good solution is to upgrade your security measures constantly.
Complexity
Automation removes the human element from the chore and allows you to focus on tasks only humans can do well (remember that this is an advantage!). There are many complex actions, even simple tasks and to automate human work, it is necessary to reproduce all of these complex movements of activities. If there is a requirement for automation, you need to determine if the solution that is getting deployed is tough enough to do the job. You need to be confident that the interface is not too complex to be helpful for successful automation.
Conclusion
Automation can offer many benefits in any way, but it cannot benefit from the economic downturn. The company at the top will adapt to change, be more agile and cost-effective, and offer better customer and employee satisfaction. These can be addressed by adopting automated systems developed using low-code platforms.