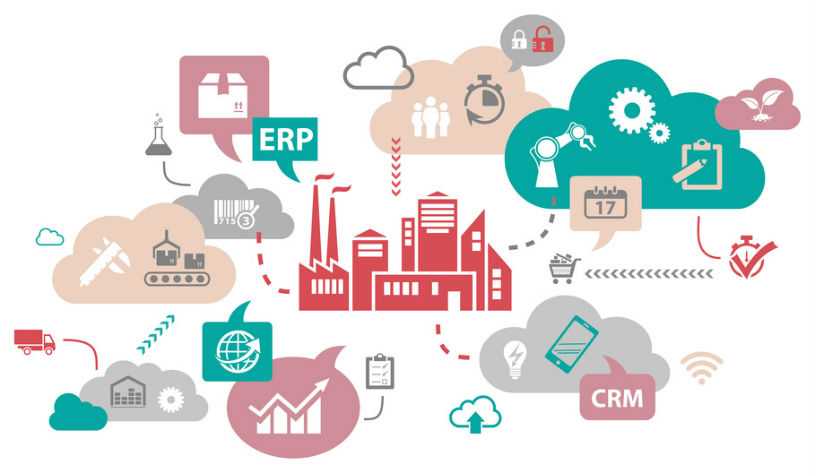 The Evolution of ERP Systems
Information and communication technology have grown rapidly with the prominence of microelectronics. In the late 1980s the first Enterprise Resource Planning (ERP) systems emerged. Enterprise resource planning systems provide business management software with modules spanning all facets of a business. These can include manufacturing, sales, marketing, financial, human resources, project management, service and maintenance and inventory management. In their earliest days, they were at the forefront of innovation. Businesses that adopted ERP systems in the late 1980s and early 1990s were ahead of the curve. Since that time, they have become a vital resource for nearly any large corporation operating today.
Early Enterprise Computing Systems
The 1960s were the dawn of the first enterprise computing systems. These early systems were basic computing systems that helped to manage inventory control systems. Most systems were written in languages like COBOL or ALGOL.
The 1970s saw the first Material Requirements Planning systems and Manufacturing Resources Planning systems, which were the base for later ERP systems. These early systems helped to integrate a larger number of processes into the system. These integrated business processes included;
Manufacturing
Sales & Distribution
Accounting
Financial
Human Resources
Project Management
Service & Maintenance
Transportation
Logistics & Inventory Management
Asset Management
Procurement
Production Planning
The rapid growth in computing power helped to facilitate the birth and grown of both the MRP and MRP II systems, which would go on to become the foundation for all future ERP systems. With the addition of module and add-ons, the software became endlessly expandable, covering nearly any process.
The Birth of ERP Systems
The late 1980s and early 1990s marked the beginning of the first ERP systems. At the time they were mostly targeted toward the largest and most complex of companies. These systems required broad adoption and consultants to implement the new systems. In some circumstances, companies had to completely re-engineer their inner business processes in order to implement them properly. Although fully functioning and enterprise ready, the ERP systems of the time were not nearly as full-featured as the systems available today. While some early systems had plug-in support, the available plug-ins were much more limited. Early extensions included scheduling, customer relationship management and supply chain management.
ERP Today
Today enterprise systems have grown to become a vital part of nearly any business that is large in size. Today businesses have more options than ever regarding extensions, add-ons and customization. A lot data is cloud-hosted and cloud-accessible. Companies have data available to them anywhere at anytime, and in much larger amounts. Additionally, ERP systems offer data-driven solutions and analysis for any process or department. Current ERP systems are as large and intuitive as the organizations themselves, spotting inconsistencies and recommending actions.
There are numerous popular ERP systems used by businesses today. Few of them are included below;
SAP AG (mySAP.com) – Founded by five former IBM engineers in Germany in 1972, today SAP AG offers the largest, most complex ERP software. Today they are the third largest software vendor in the world, a title held mostly because of their innovative ERP systems. They have a market share of 36%, and more than 17,000 customers across the world. They have been able to separate themselves from the competition by expanding their offers to include sales force automation and warehousing.
ORACLE – Oracle was founded in the US in 1977. Known for their high quality database solutions, they are currently the second largest software company in the world, second only to Microsoft. While Oracle was formerly best known for its relational database, it was for many years the database of choice for SAP ERP applications. The cooperative situation existed until Oracle began to build its own ERP solutions and the same SAP began to offer its ERP solutions in Microsoft SQL. They made their first foray into ERP systems in 1987, the company's enterprise solutions account for more than 25% of their yearly totals. They offer more than 50 modules for their Oracle Applications ERP system, as well as APIs and systems administration software. Oracle has always been a fixture in the online space, and offers a variety of e-commerce related ERP modules in their Oracle Application Server. They are the leader in cloud solutions, and is now a well-established number 2 in Tier 1 market.
MICROSOFT: This Company has a very strong presence in the Small Medium Business segment and in the mid-market. Microsoft has over 83,000 world- wide customers. Microsoft has a very strong channel network to handle ERP products. Microsoft ERP products are only sold through Value Added Re-seller only. A great advantage of Microsoft products is its great ease of use that includes ERP as well. Microsoft Dynamics has been focussing on Tier II clients in the ERP space.
EPICOR: This Company has been in the enterprise solution market for a very long time. The company was founded in 1972 and since then it has introduced several reputable products. The company has over 20,000 customers all over the world at present about 140 countries. In last decade or so and after some critical acquisition, company has achieved high growth. Company has a good value added reseller channel and provides strong industry solutions. One key success factor to the company is its pool of ERP consultants. Products offered by the company are low to moderately price.
INFOR: This Company is among the top five largest player on the ERP market. The company was founded in 2002. The company has introduced enterprise software for financial systems, supply-chain management and customer relationship management. The company has more than 70,000 customers all over the world. The company is known to provide vertical ERP solutions and boast key strength in manufacturing solutions. It provides ERP solutions for complex and non-continuous manufacturing.
BAAN – BAAN was originally founded in 1978 in the Netherlands. The company expanded rapidly into ERP systems and was able to capture 5% of the market share in 1997. They offer ERP solutions for finance, procurement, distribution, manufacturing, integration, planning, sales, service, maintenance, and business intelligence, among others. The company targets the aerospace, automotive and defence industries in particular. BAAN's software is often said to be a bit too rigid for some industries.
OPEN SOURCE ERP – Enterprise business applications is the last frontier for open source to conquer. While open source software has quickly found itself inside organizations in various places such as as server operating systems, web servers etc, getting to be the heartbeat of an organization, which is what an ERP does and provides, is not be an easy sell. Despite these challenges, open source ERP have managed to slowly increase their market share, and play in the various markets as defined by size and in different geographical locations of the world. Few of the open source ERP systems that have gained market share in the last few years are Openbravo, OpenERP, xTuple, Adempiere, PostBooks ERP & WebERP.
ERP systems have changed rapidly over time. Their evolution has mirrored the evolution of micro-computing and the tech industry in general. Today, ERP systems are a necessary resource to compete in any kind of large-scale industry.