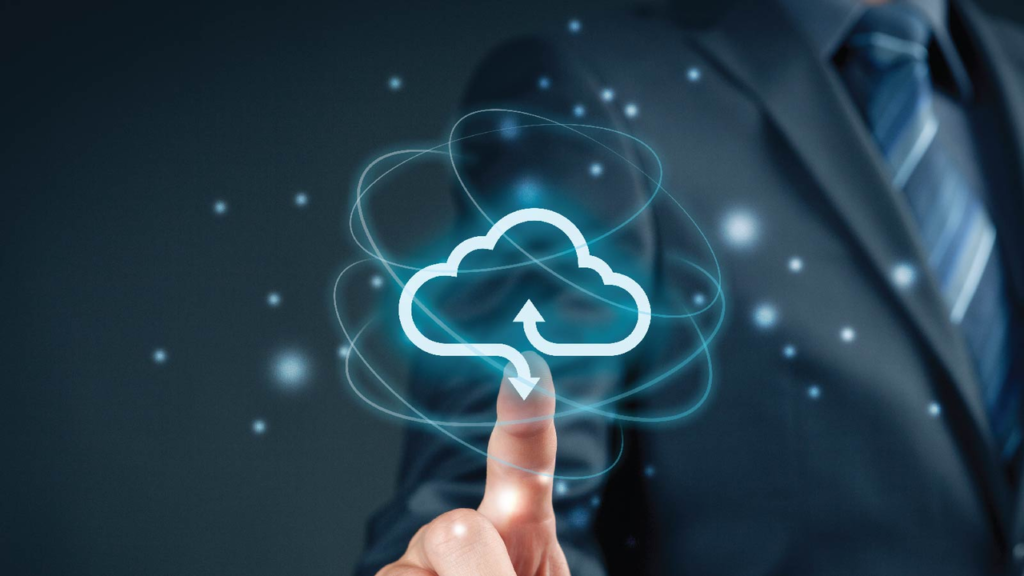 How Cloud Computing Is Changing The Technology Space
Cloud computing is an architecture built on applications that store data on remote server infrastructure which can be accessed over the Web (WWW). Segregating back-end infrastructure and front-end infrastructure, cloud computing supports recognizing and visualizing the process. Client devices can use an Internet Browser or Cloud Computing applications to access data stored in the cloud and visualize data and information using the front-end. On the other side, the back-end is the most important part of cloud computing as it is accountable for storing and managing data, responding to client requests, and securing information. Servers, databases, computers, and all other connected devices are part of Cloud Computing.
How Is Cloud Changing Business?
The cloud enables the fast bi-directional movement of sensitive information by virtualization technologies to scale up/down across computing, efficiently handling larger workloads, and provide a higher level of security with the thousands of computing machines, the system is designed to serve.
Organizations' business needs are changing at a rapid pace and in response to changing technology, customers need to maximize offerings from the latest technology to be able to compete in a competitive online world. Companies use the cloud for various reasons, but most importantly, it keeps costs low because they do not have to manage resources for computing power and the latest technology. Here are some of the most important reasons why cloud computing are providing business value:
Dealing With Customer Needs Effectively
A proactively designed customer support strategy is critical to the success of any organization. Cloud technology helps create effective, customer-oriented applications and adds a level of personalization. Customers can access their information from anywhere globally and provide real-time feedback. Cloud computing and hosting have simplified the way to connect customers in a well-managed environment.
Security Considerations
Hackers are increasingly attacking websites and connected devices, essentially where online resources support financial services like payments. Holding a higher level of security is necessary to gain customer trust. Cloud providers are implementing more advanced security mechanisms to meet the security needs of all organizations. If an even higher security rank is needed, a managed cloud hosting provider can be asked to implement advanced security technologies. Data can be stored centrally in a location protected by iron-clad security tools to ensure a higher level of security.
Many options are available for storing data, including SSDs and extensive data caching. Cloud providers expertly configure their infrastructure to provide faster data access than local infrastructure managed by an organization. The cloud not only delivers protected storage but also allows for stronger security measures to enhance the quality of service.
Cost-effectiveness
This is also an important factor in using dedicated infrastructure or traditional hosting services vs cloud infrastructure, as resource costs are incurred whether or not they are used. However, cloud computing for business or personal use can reduce costs considerably because you only pay for the resources and the computing power that you consume.
There is no need to hire a dedicated technical team to manage infrastructure or support technical issues. This is because the cloud partner takes care of deploying, managing, and upgrading the systems as per the standard practices and according to customer requirements.
Operational Improvements
It is understood that many organizations are expanding onto the Internet and offering their services across regions and countries because people prefer to shop and get the service offerings online. Today, the remaining traditional businesses are also trying to confirm their online presence to target a larger audience worldwide. The larger the enterprise, the larger are the resources needed to meet the business requirements
Managed cloud services are highly scalable solutions and can always meet their data requirements. Businesses are interested in cloud services because they only have to pay for the resources they consume. This makes it easy for any business to scale up or down according to business requirements and reduce costs effectively. Organizations migrate their applications to the cloud as part of their IT landscape, and in return, it supports them to focus on their core business needs and maximize profitability.
Where Is Cloud Data Stored?
When people think about cloud computing, the first thing that usually comes to mind is the typical applications like Dropbox, Google Drive, or iCloud.
First and only, we need to comprehend what exactly cloud computing is. Cloud computing is the ability to store and retrieve information from the space you own on the Internet. With cloud computing, data is not maintained in local infrastructure, however, data is easily available at any time, from any location, and able to access from any authenticated connected devices.
How Is Data Stored In Cloud Storage?
If the above sounds too imaginative and far-fetched, think about the email applications you already use, such as Gmail, Hotmail, Yahoo, etc. You are probably well aware that these email applications that help you send and receive an email daily do not take up space on your local hard disk drive but instead store their email data on the partner's email servers. This is nothing short of the very basic form of "cloud computing".
Taking the example of email, note that you can easily log in and access all your emails from any computer, laptop, or even smartphone, very comfortably. This is possible because of cloud computing.
However, many end customers do not realize that even though the data is stored in the "cloud," it is physically stored on remote devices at a particular location managed by the service partner. As the customer base increases it remains necessary to have servers managed by service providers, devoted to huge places where data is stored often called "server farms," and these are primarily vast warehouses packed with data servers that typically run 24/7 securely.
Top Cloud Service Providers
Cloud Service Providers (CSPs) provide core services like Software as a Service, Platform as a Service, Infrastructure as a Service, Business Applications, and Mobile Applications. Cloud service providers host these services in their data centers, and end customers can access these services through the cloud provider using an Internet connection.
Amazon Web Services (AWS)
AWS is often praised as a leader in the cloud computing arena; Gartner's Magic Quadrant has named it a leader in infrastructure and platform services for 10 consecutive years. AWS has many services, and companies of all sizes use AWS for their cloud environments. AWS is also highly regarded by customers for its support.
Microsoft Azure
Microsoft's Azure is second in revenue, but Azure is essentially in head-to-head competition with Amazon Web Services. Its most significant strength is its legacy strength in the enterprise: its long dominance of the Windows OS and many Microsoft productivity applications means that enterprise customers have long been married to Microsoft before the cloud was a factor.
Google Cloud Platform
Google Cloud Platform (GCP), which occupies third place behind AWS and Microsoft Azure, offers a robust IaaS offering with deep technical capabilities from its dominance in the search market. GCP offers arguably the greatest strength in this area of AI, Machine Learning, and especially data analytics, networking, and automation strength.
Conclusion
Cloud-based, highly functional resources help organizations create new business opportunities in a short period. Another major benefit of cloud technology is shifting IT environments to focus on different business strategies rather than devoting time and valuable resources to technical debts. In other words, cloud technology is not an alternative but a pillar to enhance future business.